TDS 27 Dani Lin Says Aloha and Shares Ideas For A Path To Eating Well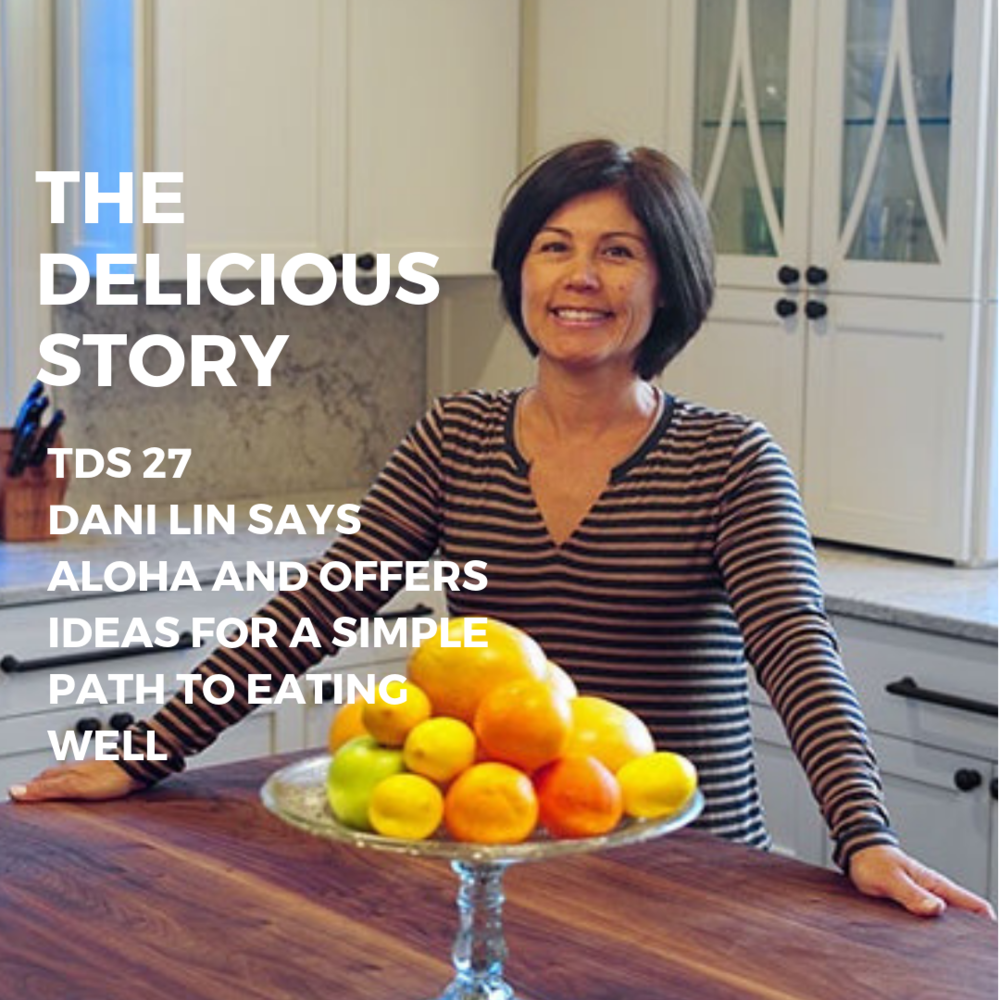 Dani Lin In Her Kitchen
Listen to "TDS 27 DANI LIN SAYS ALOHA AND OFFERS A SIMPLE PATH TO EATING WELL" on Spreaker.
Shouldn't eating be a fairly simple activity?
These days, that doesn't seem to be the case. Bring strangers together at the table, and you'll probably discover that there are just as many dietary requirements as there are people gathered. I might be exaggerating, but not much. We live in a hyperconscious time when it comes to our relationship with food—just think paleo, keto, lactose intolerance, gluten-free, low salt, vegan, vegetarian…all of which is good when the focus is health, but bad if we're trying to de-stress our lives.
This week on #thedeliciousstory, I visit with Dani Lin, who is a wellness coach and culinary explorer of healthy and delicious foods. We talk about her path to healthier dining, the complex challenges of bringing family along on that journey, and the mission she shares with her clients to make dining fresh, diverse and simple.
I'm easily intimidated by sales spin, and the fact that Dani does NOT speak that language when it comes to her services is so appreciated. You'll get to feel her authentic energy as she explains what led her to take a love of cooking and turn it into a business to help others. Dani's thoughts and ideas on selecting and preparing foods make sense and help immediately diffuse some of the angst I've personally felt in eating lately, always wondering: "Am I doing this right?"
WARMTH AROUND THE TABLE
As small business owners, it's easy to feel the isolation of working in a bubble when it comes to honing services to marketing and beyond. In an effort to find a helpful tribe of like business owners, I recently joined FemCity® in Des Moines, and was particularly intrigued upon meeting Dani. She exuded a warm and calm presence which I would soon discover is particularly impressive given her large family. Or maybe her nurturing presence is what makes the large family possible? Either way, I was especially intrigued when she talked about the special dinners that she and her husband host in their home at what they call the "Aloha Table." You'll learn more about the experience, the themes and the types of dinners served at Dani's special events in this week's podcast.
This concept of hosting meals in the home is marvelous, and flips the restaurant experience on its ear by bringing the element of a more intimate community to the meal. I'd already heard of pop-up restaurants, but this is very different in that the chefs serve a specific menu in their home and offer seats to join and dine together for a set price. That simple. In The Penny Hoarder the article, "This Tool Helps Aspiring Chefs Make Money Serving Home-Cooked Meals" by Nick Loper, delves into this business model and visits with a chef who shares her own experience using a tech platform to help her maintain and market her business.
Dani will share a few stories of her own of the dishes served at the Aloha Table, the emphasis on gathering people, and what the experience has meant to her.
THEN THERE IS SPAM…
I love all four seasons, but do assert that fall is my favorite even though it signals the end of summer. Winters have always meant endurance and tolerance more than anything else, and this last winter was a particular doozy bringing a sheath of ice that covered my driveway for the months of January and February. I say this only to signify my alarm after learning that Dani grew up in Hawaii and came to Iowa where she then STAYED! You'll learn from her how that all came about and why it was her choice in the end. For the rest of us in the area, it has meant she's brought some of the heritage of that fine state right here to our city.
One of the more curious factoids I recently learned about Hawaii is that the inhabitants of the state are particularly enamored of Spam. This came about during WWII when millions of cans of the salted meat were shipped to the island for the troops stationed there.  Dani explains her own memories and attachment to this canned meat, and elaborates one of the favorite fast food dishes of state residents: Spam Musabi. Dani explains how it's prepared and the best place to try the dish if you visit Hawaii. Although it probably doesn't end up being one of the healthiest items, there is room in a healthy diet for moments of comfort food. To catch more on the history of Spam in Hawaii and elsewhere, you can read this post over at Huffington Post titled, "Why do Hawaiians Love Spam So Much?" by Kimberly Kohatsu.
KALE SALAD
It might seem like a weird segue to go from Spam to healthier food fare, but during the interview Dani and I manage to do just that by talking healthy options like roasted vegetables, not to mention the other lifestyle services Dani provides, including cooking classes and personal coaching. Dani sees her role as a co-explorer with clients where everyone learns together.
And just to give you a sense of the kinds of dishes Dani shares, you can check out her post for the full story behind this healthy kale salad and how it was received and reinvented by her. In the meantime, I'll re-post the recipe here as well:
DRESSING
3T extra virgin olive oil
1T toasted sesame oil
2T coconut aminos (Trader Joe's has it!)
2T rice vinegar
1T grated ginger
3 cloves garlic, pressed
1 T toasted sesame seeds (optional)
SALAD
1 bunch lacinato kale, washed and destemmed
1 cup jicama, julienned
1 small red bell pepper, chopped
1 carrot, use peeler to make long strips
1 cup edamame, cooked and shelled
1 avocado, cubed
Cilantro (optional)
INSTRUCTIONS
Cut prepped kale into strips and place in large bowl.
Combine dressing ingredients in a jar and shake well to combine.
Pour a little of the dressing over the kale and massage to soften.
Add the other vegetables.
Toss and add more dressing to taste.
NOTES
You could sub soy sauce or tamari for coconut aminos.
Try other veggies too! Sliced snow peas or sugar snap peas would also be good.
THE REBIRTH OF EATING
In the U.S., an unfortunate manifestation of generally speeding up our lives and being SUPER productive affected how we view food today. Eating has become a means to an end where salt, sugar and processed foods satiate our taste buds and chemically alter our brains. And then we're left hungry for the nourishment that we've been missing.
These days, we've all learned enough that we now know much of the processed items in the grocery store don't even qualify as "food," nutritionally speaking. And thankfully, the pendulum has swung back to health, meaning for many a return to the basics of food. But now, the assortment of dietary options is overwhelming! Factoring in a more holistic view of eating well that includes connection with others is one way to slow down and be healthier in a bigger way. If Dani's philosophy can serve as an example, we can end up stressing less and enjoying the simple act of eating together again.
Sherry is the founder of Storied Gifts a personal publishing service of family and company histories. She and her team help clients curate and craft their stories into books. When not writing or interviewing, Sherry spends loads of time with her grandchildren and lives in Des Moines, Iowa.
STORIED GIFTS SHOP
Need a beautiful infusion of inspiration for your storied life? Please check out the Storied Gifts Shop where we offer Wearable Wisdom & Daily Inspirations.
The shop is a mother and daughter venture for Sherry and Alexandra Borzo of Content In Motion. They both work to help their client's stories sing. The shop is there effort to inspire a focus on healthy minds for everyone through positive thought.
LET'S BE FRIENDS
Please like the Storied Gifts Facebook page. We offer tips and inspirations to help you tell your stories and live a storied life by harnessing your healthy mind through the power of the thoughts you choose.